Two Cents 2020: Part Two
Our year-end awards and citations continues. Read Part One
Best Anti-Biopic: Shirley
As writers mature, we move away from the distempered biographical templates of the literary figures we idolize—the well-lubricated Capotes, the prematurely taken Hansberrys—and chart our own paths. This is in our best interest, particularly for the more image-conscious among us. The cerebral mechanics of writing don't always translate favorably to cinema, where whimsy is often celebrated over work. Look no further than Wash Westmoreland's Colette, the moist 2018 biopic on France's essential femme de lettres, produced, like Josephine Decker's Shirley, by Killer Films. Shirley, on the other hand, is worth the indulgence for writers who get off on watching dramas about writing. Part biopic of author Shirley Jackson, part fiction, Decker's film firmly adheres to the literary platitude of showing in lieu of telling. As the film begins, we encounter a young, happy literary couple aboard a train en route to liberal arts haven Bennington College in the late 1940s, ready to stake claim to—not necessarily earn—their fame and fortune. Once in Vermont, they encounter their antitheses: Professor Stanley Hyman (Michael Stuhlbarg) and his reclusive, renowned, and rumor-plagued wife, Shirley Jackson (Elisabeth Moss). Out of the quartet's biting rapport in this quaint college town, the true nature of writing life is revealed. Those of love, sex, and gender are swift to follow; as unsettling as any Jackson fable. —Sarah Fonseca
Best Intersectional Movie (That Isn't Patting Itself on the Back): An Easy Girl
Popular movies these days pride themselves on how forcefully they convey feminist themes, or how they correspond to the "moment" (see Promising Young Woman). Perhaps on account of its indifference to such fanfare, Rebecca Zlotowski's An Easy Girl was unceremoniously dropped on Netflix and promptly buried beneath a glut of content. Yet the sun-bathed coming-of-age film never really got the credit it deserved for its deceptively casual understanding of race, class, and sexuality. Following two young Maghrebi women, daughters of working-class immigrants, An Easy Girl considers society's perception of "easy" women through the clever casting of real-life tabloid sensation Zahia Dehar (the French equivalent of Kim Kardashian, here channeling Brigitte Bardot). Rather than dedicating stretches of dialogue to explaining how young, brown women are crippled by or wield power, or achieve autonomy, in a white-washed, downwards-punching world, Zlotowski simply gives her characters room to breathe, observe, react, and reflect. The experience of growing up, after all, is less a matter of identifying and articulating the sociopolitical factors that shape your existence than about processing these elements through the smokescreen of fear and desire. —Beatrice Loayza
Best Discovery: Queen of Diamonds
Who knew that way back in the early 1990s there was an Akerman-influenced American filmmaker crafting a sublime, disorienting, formally rigorous character study of a female blackjack dealer adrift in Las Vegas? Well, obviously, someone did, or else Nina Menkes's Queen of Diamonds wouldn't have recently seen restoration and re-release. (It lands soon on the Criterion Channel.) Yet films like this one are crucial reminders of the mountains of titles out there that have been left out of the historical record and the valuable excavation work done by adventurous members of our programming community to bring them back to life. It's no accident that these are films often made by women and people of color and which adhere to traditions and aesthetic modes seen as unfashionable or too radical in their day. I was honestly left speechless by this one and imagined for a while what my personal picture of '90s American Independent cinema would look like now if I'd had the chance to live with Queen of Diamonds for a few decades. Better late than never. —Jeff Reichert
Fire Will Come Right Away: Collective
Fire Will Come Pretty Soon: Beginning
Fire Will Definitely Come: Fire Will Come
"Author, Author" Award: Mank
In Mank, an incandescent pastiche of Depression era personalities and events sits inside an inertly conceived dramatic conveyance, never coalescing into a fluid narrative. By now, anyone reading this knows that conveyance is the writing of "American" at the Victorville ranch in 1940, the first draft of the screenplay that would yield Citizen Kane, but that this film's true subject is the life, times, and wit of its author Herman J. Mankiewicz. Unfortunately, Mank's own screenplay, penned by David Fincher's father Jack, hasn't resolved whether it's more interested in the life, the times, or the wit. It advances a suggestive but unsure history with enough remnants of Pauline Kael's credit screed to have earned the righteous wrath of Joseph McBride. Still, Fincher derives precise values from his father's muddled scenario, parlaying its thinly theatrical notions into rich displays of cinematic choreography. Behind his camera's deceptive impassivity, this director has always been an artist of the blind stitch, insinuating nuances of emotion and tone, and squirreling haunting notes of uncanny malevolence and melancholy into the seams of straight-ahead stuff. Here, his virtuosic play on movie moods and tropes from The Front Page to Chinatown masks a gimlet-eyed portrayal of what a writer's decline and debasement look like in Hollywood, to say nothing of how insidiously its plutocrats work their will upon their underlings and, through them, the masses. Gary Oldman's Mankiewicz is an insufferable windbag, but his withdrawn humanity is revealed in the chinks behind his verbal armor, in moments of languid silence between strenuously expelled words. The tender duet Fincher orchestrates in Mank and Marion Davies's conspiratorial stroll through the San Simeon grounds constitutes this film's Rosebud, its whispered cipher, a crystalline expression of how precarious it is to walk the American earth, as finally we all do, knowing we're probably only pets in someone else's zoo. —Edo Choi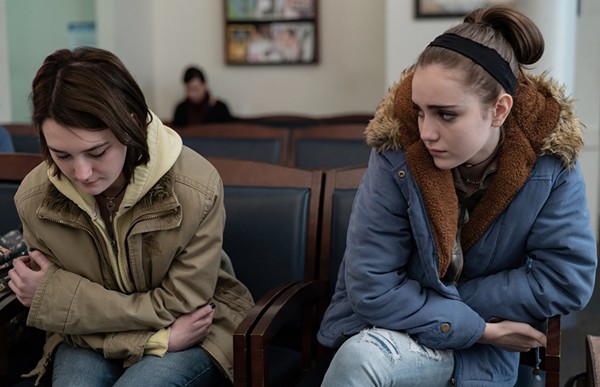 Best Actress [tie]: Sidney Flanigan and Talia Ryder in Never Rarely Sometimes Always
Eliza Hittman's penchant for fresh faces paid considerable dividends in the performances of It Felt Like Love's undersung Gina Piersanti and Beach Rats's magnetic Harris Dickinson, but the casting of Buffalo teenagers Sidney Flanigan and Talia Ryder is paramount to the power of Never Rarely Sometimes Always. As Autumn, a Pennsylvania high schooler seeking an out-of-state abortion, Flanigan, a singer-songwriter, anchors Hittman's drama with a naturalistic performance of taut, Bressonian toughness, free of quippy irony and precocious charm. There's a history of turmoil beneath Flanigan's sullen stare, but the first-time actress refuses to soften the character's ornery nature, maintaining her right to be a moody adolescent faced with a burdensome errand. Flanigan keeps Autumn's secrets, even when her facade cracks during an indelible, single-take response to a Planned Parenthood questionnaire, not so much performing the psychological toll of such silence as living it. Flanigan has been justly honored in past weeks by numerous critics' groups, but the less-celebrated Ryder, a dancer with Broadway credentials, is equally indispensable as Skylar, Autumn's gutsy cousin and comrade. Providing the film's scarce moments of mirth and levity, Ryder provides a casual generosity of spirit that's a worthy foil to Flanigan's tight-lipped timidity. Both actresses make these personalities feel highly particular to the characters, while radiating the sense that Autumn and Skylar could be any two girls who have seen more of life's cruelties than they care to show and who make each other resilient with actions rather than words. —Matthew Eng
Would Have Looked Beautiful in Theaters: Sylvie's Love
Would Have Looked Repulsive in Theaters: The Prom
Best Pandemic Activity: Rewatching The Sopranos All the Way Through (for, like, the fifth time)
How many times can I watch "Pine Barrens," or that scene where Meadow and Carmela get into it over their differing interpretations of Billy Budd? Can I ever stop cringing with every fiber of my being when gardener Sal Vitro appears? How many times can I laugh at one of Little Carmine's malapropisms as if I'd heard them for the very first time? Can I ever stop myself from yelling "TONY, JOIN DSA!" when he complains about gentrification after being asked to sell the live chicken store's space to a Jamba Juice? Will I ever accept that there'll never be a leading man as talented and fucking hot as James Gandolfini on television ever again? There is no end to rewatching The Sopranos, because it is a balm for my sadness and frustration and anger for reasons that I can only grow closer to understanding by rewatching it.
It's a show that takes place in the most realistic of all worlds: one where every character feels underappreciated, overlooked, and stressed out, which prevents them from seeing each other's pain and suffering. Sure, the fact that the show starts with Tony complaining to Dr. Melfi about America's decline, and then goes on to dramatize the construction of the military security state, makes it—as if this is the barometer by which all art must be measured—really relevant. It's an intelligently constructed show about dumb people, people who are dumb in the way that we all can be dumb, like giving bad advice, or giving bad advice that actually applies to our own failings. That frisson is good, but that's not even a sliver of its pull. I get lost in the failsons, like aforementioned Lupertazzi, Jackie Jr., and A.J.; in Paulie Walnuts's vanity; in the separate tragedies of Christopher Moltisanti and Bobby Baccala; in the sounds of Jersey accents and Gandolfini's nose breathing. I started rewatching the sixth season in July, when I was almost going to crack, and then started from the beginning after being tipped off to the magnificent "Talking Sopranos" podcast, hosted by Michael Imperioli and Steve Schirripa. In addition to providing some pretty useful insights into writing, acting, and life, Imperioli and Schirripa are great at breaking down scenes and bullshitting about which restaurants they like. Sometimes, after coming home from work, I like to turn out the lights, lie on my bed, close my eyes, and listen to them talk. It diffuses the bomb that I carry inside me. —Violet Lucca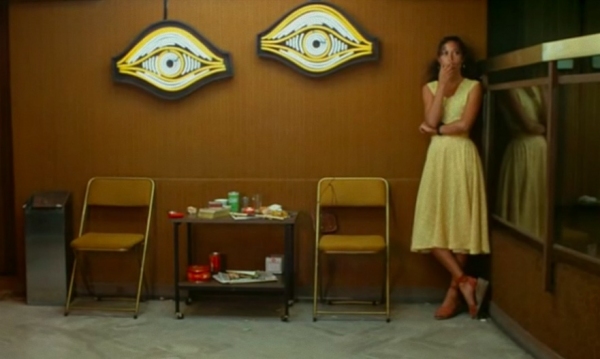 Best New Old Film: Simone Barbes or Virtue
Giant neon eyes on seedy brown walls; loud, moaning orgasms on the soundtrack; two fashionable young women seated at the doors to a porn theater, ushering frumpy, gray-suited men in and out like the gatekeepers of hell. It's the perfect setup for a disquisition on sex and its discontents, but Marie Treilhou's 1980 debut feature—which I saw in newly restored glory at last year's New York Film Festival—is really about work and its banalities.
Simone and Martine spend the first of the film's three acts gnawing their way through a late-night shift with irritable, aimless, and often hilarious banter. In the halls behind them, men enjoy the titillations of onscreen women; in the lobby, they are tolerated reluctantly by the two usherettes, whose bored, no-nonsense attitude contrasts with the skittish shame and excitement of their customers. When her shift ends, Simone goes to meet her girlfriend, who works at a gaudy lesbian nightclub. The setup is not much different in this second act. The entertainments are more tasteful and on display—including a punk performance and a remarkable dueling dance between two women dressed skimpily as Amazons—but here, too, Simone remains on the periphery, alongside the ushers and waitresses charged with the comforts of the club's patrons. In Treilhou's film, the business of pleasure is as tedious as any other job.
The pleasures of the film, on the other hand, are many and thrilling: the stylish, eye-popping mise-en-scène; the unpredictable wit of the dialogue; the sincere nonchalance of actress Ingrid Bourgoin; and the sublime comedy of the movie's third act, in which a lonely mustachioed driver (played by Cahiers du Cinéma critic Michel Delahaye) tries to pick up Simone. She gets into his car and takes over the wheel, rebuffing his solicitations with a barrage of existential musings: "You know, when souls brush against each other in exaltation... Well, those days are over, aren't they? You've got to be your own person these days." They part with a touching, trite exchange about their jobs. He's a croupier; she's a go-go dancer. The work night is over, and another awaits. —Devika Girish
Unexpected Heartthrob Award: Romanian Minister of Health Vlad Voiculescu in Collective
For about the first hour, Alexander Nanau's Collective is chiefly concerned with the tired, tenacious journalists of (oddly) a sports-related gazette, who are hellbent on investigating the fatally bungled healthcare aftermath of a 2015 nightclub fire in Bucharest that ended up killing 64 and injuring many more. The journos, most notably Cătălin Tolontan, are seen staking out pharma offices, hounding dissembling bureaucratic spokespeople, making righteous talk show appearances and publishing unsparing stories that eventually lead to the resignation of the Minister of Health, a shocking pharma exec "suicide," and a governmental overhaul. Then something unexpected happens. At a press conference, Tolontan is rolling his eyes at more noncommittal responses, this time from Vlad Voiculescu, the new Minister of Health from the Cioloș Cabinet (installed following mass protests), and Nanau and his film proceed to cede center stage to Vlad. Though it never forgets the Gazette crew and their dogged pursuit of truth, Collective shifts focus to the compromise and red-tape-strewn world of government, specifically this 33-year-old technocrat's attempts to root out the almost comically absurd levels of corruption that exist amongst Romania's hospital managers, doctors, and pharma companies. Happily, the youthful Minister proves a charismatic companion, not devastatingly handsome, mind you, but appealingly suave in a rimless-glasses, substitute-teacher way (you notice some flirty, appreciative smiles from the press corps). He's also refreshingly receptive to criticism, able to laugh at his Herculean to-do list, and full of seemingly genuine empathy, like when he's listening to a doctor describe a patient's maggot-infested wound, and later visibly pales when hearing of the patient's death. Ultimately, the work of vanquishing such entrenched rot proves beyond Vlad's power, and his Cabinet is swept out by returning Social Democrats (there's an endearing phone call between a taxi-riding Vlad and his father bemoaning the election). But while onscreen, mild-mannered but romantically devoted to system repair, there's no one you'd rather have on your side. —Justin Stewart
Best Queer Love Story: The Half of It
The best coming-of-age movies work from the understanding that rites of passage don't make us more certain, but instead prepare us to face the everlasting uncertainties of life with greater depth, bravery, and compassion. Alice Wu's teenage romance The Half of It reconfigures Cyrano de Bergerac with moments of nearly absurd hilarity, but it's the film's rich, poetic depths that merit special attention. An opening scene in a high school band room captures protagonist Ellie Chu's queerness through her perceptiveness: the architecture of an inner life built from an intense connection to literature, film, and the music she writes. Here, she watches a choir of her classmates sing John Denver's "Annie's Song," the dulcet voice of her crush Aster rising above the rest. This isn't even the best music moment in the film (an ecstatic use of Sharon Van Etten's "Seventeen.") The chorus of Denver's song—"you fill up my senses"—captures what The Half of It does best. The film is sensual without being overwrought, is uninterested in dramatically aestheticizing the lives of young characters, and forgoes the detached irony of many teen films in its steadfast commitment to affective vulnerability. There's a commitment to capturing its fictional Pacific Northwest town: oppressively small and ecologically vast. A gust of air, a plane of light, the sound of rainfall all breathe life into the teenage feelings articulated onscreen. While the narrative ultimately arcs, Künstlerroman-style, towards Ellie's personal and artistic self-assertion, its emphatic takeaway is an invitation to be surprised by the people in our lives, to welcome the friendships that anchor us while also ushering along our journeys. The film's extraordinary, sun-dappled final seconds are of ache and observation, a slow pull to whatever comes next: closure as an opening. —Katherine Connell
Worst Happy Ending: Happiest Season
Best Horrific Ending: Identifying Features
Best "Possessed" Acting: Saint Maud
Among its bounty of triumphs, Rose Glass's stellar feature debut boasts a superb performance from its lead actress Morfydd Clark. As the devout, troubled nurse who clashes with her dying, atheist client, Clark is all at once terrifying, awkward, and sensual, for Maud expresses her faith in a curiously carnal tenor. When she "feels God's presence," her lips quiver, her eyes roll into the back of her head, or she may collapse in a fit of euphoric gasps. Glass makes the body a fascinating organizing symbol in her film, and Clark, for her part, turns in an effortlessly physical performance. She plays Maud with an overarching tenseness, so beleaguered by her discomfort in her own skin (and to be armed against oneself is the worst kind of loneliness) that she would not think twice about ripping her flesh apart in the name of divine revelation. Although Maud is not technically possessed—not in the traditional sense, anyway—Clark gives a haunted, haunting portrayal of a woman not quite in her own body. —Kelli Weston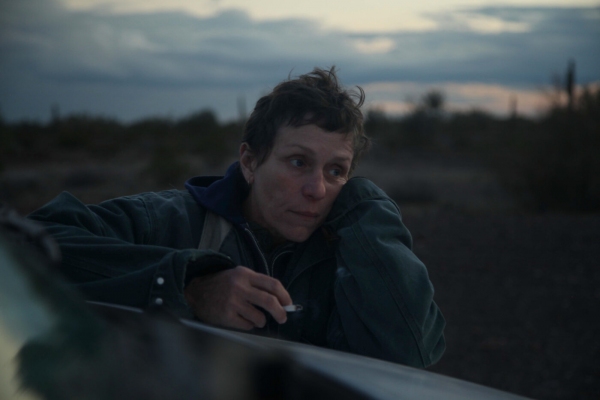 Prime Cut: Nomadland
The classic Hollywood three-point lighting system, designed for faces of European descent, can slim the bridge of a nose, elegantly contour the cheeks, and render someone who's just sort of okay-looking into a conventionally attractive beauty. Chloé Zhao's reliance on shooting at magic hour in Nomadland could be understood in much the same way, reshaping and subtly glamorizing the face of elderly penury. Nomadland is based on Jessica Bruder's matter-of-factly titled article "The End of Retirement," which explored the lives of Amazon's CamperForce, a group of mostly older, impoverished people who do strenuous seasonal work for Amazon warehouses while living out of their vehicles. Nomadland takes a more "can-do" attitude than Bruder's article, the kind of passivity and eagerness that every asshole boss wants—no, expects—from their minimum wage employees. In addition to skipping over the extremely painful overuse injuries (and other insane labor abuses) suffered at Amazon warehouses by employees, the one scene shot at an actual Amazon facility—boxes whizzing down the line and a brightly lit lunch break with pals—is so sanitized you could eat off of it and taste the bleach. Fern (Frances McDormand) will later do other seasonal work, such as fry cook at Wall Drug and campsite janitor, that is dwelled upon and presented as far more miserable than running around a warehouse and pissing into bottles. But Amazon created the CamperForce program, so why shouldn't they get a stake in creating the dramatic tension in this film?
Certainly, members of the real CamperForce take pride in tricking out their rides and relishing the freedom of the road now that they've abandoned the "sticks and bricks" (i.e. houses) lifestyle—check out Bob Wells's YouTube channel, which offers more insight than Nomadland while also functioning as an advertisement for itinerancy. Yet Zhao never pierces the surface of these characters in an honest way, leaving us to be voyeurs of poverty. (Or, perhaps in the case of us artsy types who don't really have savings accounts, the film is a preview of our future as unhoused Instacart shoppers.) The film's aesthetic also breaks the human connection, jumping awkwardly between documentary and Hollywood-style magic—it's glaringly apparent where the director, standing off-screen, got the best version of a story from one of the Real People by talking to them, and where McDormand, taciturn pixie she, stands at her mark and cutely nods in service of a reaction shot. I'm sure a defender of the film would ask if any of us are truly free, to which I respond: Who killed the pork chops? What price bananas? Are you my Angel? —Violet Lucca
Most Unexpected Revelations
Coming up with a top ten was a cinch; brainstorming with any interest for this year's Two Cents column was a slog. The differences between this year and all previous ones are obvious and unnecessary to reprise here, but it's perhaps worth investigating why this became such a nearly impossible task for me. Looking back over the girth of 2020 titles I saw, I found that things basically became an undifferentiated mass of movies—most of them international festival fare, a professional hazard—that I saw on my laptop or Chrome Cast onto my not terribly large television. Pleasing movies with long titles (Swimming Out Till the Sea Turns Blue, The Shepherdess and the Seven Songs, Window Boy Would Also Like to Have a Submarine), chores with short titles (Babyteeth, Soul, Surge). Magnificent discoveries (Ridge, Identifying Features, Red Moon Tide), self-indulgent trudges (French Exit, On the Rocks, A Rainy Day in New York). In any other year, a great deal of them would have been watched in dark rooms, on large screens, surrounded by others. I would have turned my phone off. I would have fixed my eyes on one spot. I would have held off going to the bathroom until the end. This year, they all were framed by the same borders, and as brilliant as some were, and as breakable as others were, they had similar effects on me. Months later, I can't muster the enthusiasm or engagement to write anything substantial or fair about them.
Moviegoing is often spoken of as a solitary endeavor, but many of us have undoubtedly learned in 2020 that so many of our important movie experiences have come from audience give and take. The most meaningful interactions I may have had around movies in 2020 came from an unexpected place: a weekly, unofficial Friday midnight viewing club with a group of cinephile friends who shall go unnamed for the moment. The group began as a kind of anti-nostalgia trip, a way of connecting over probably not-very-good movies whose presences haunted our childhoods—American garbage from the eighties and, mostly, nineties, that we had either seen once before or not at all. And well, it sort of stayed that way, but the format of our nights—syncing pressing play on either a downloaded file or some streaming title and then having catty group chats on What's App—began to make room for surprising depths. After a while, we weren't just one-upping each other with witty or witless aperçus—it was like we were scouring the heavy bottom of some alternate cinematic history forged in over-budgeted studio mainstream prestige. No one could claim to be shocked by the sheer amount of racism, homophobia, misogyny, and overall poor taste rammed into seemingly every corner of these movies—most of them typified as liberal Hollywood product—but the steady stream of them left us shaking our heads and giggling in horror over what we had been ingesting over the courses of our childhoods. (With one tweet, we could "cancel" Richard Dreyfuss and Natasha Lyonne for blackface or Kathy Bates for "Eskimo-face" or Paul Hogan for vile transphobia, but, of course, wielding true power is in the pardoning.)
One Friday after another, we self-flagellated, we slacked open our jaws, we took unsettling frame grabs; we puzzled over major auteur failures by Coppola, Nichols, Spielberg, Levinson, Reiner; we wondered if pandemic isolation had deranged our abilities to follow plots or if nineties movies were actually more byzantine than we remembered (good luck, trouble-seekers, with I Love Trouble). Above all, we shared laughter and astonishment and mortification, and dealt with, at least for this member of the group, the creeping realization that we had been fed poison for so long, and it had gone down real easy thanks to the slick sheen of smooth competence with which these films had been made. At the same time, I realized that I now miss the risk-taking goofball flights of fancy and idiosyncratic failures that these films offered. Nothing in any new American studio film I saw in 2020 will stick with me as readily as Harrison Ford's obsession with Ritz crackers in Regarding Henry, the chaotic danger of the opening moments of Clive Barker's Lord of Illusions, or the endlessly committed visage of huge-eyed preteen Elijah Wood, who became our Friday nights' unexpected matinee idol. Nothing we saw was "good," but everything we saw moved us in some way, allowed us to share our lives, to come together in indignance or disbelief or perverse admiration. That's cinema? —Michael Koresky
Special Section: Dear Film Comment…
As with so many in the cinephile world, we missed Film Comment in 2020. These testimonials from a handful of critics and editors attest to the personal impact the beloved magazine had in recent years.
The first time I had a piece in Film Comment—in my mid-twenties, in an issue that also featured pieces by Amy Taubin, Kent Jones, and Andrew damn Sarris—must have been the moment I realized I had become the person I wanted to be when I grew up. At once authoritative and digestible, instructive and discursive, Film Comment collated and codified "film culture," and it was magical and surreal to be entrusted to be one of the people who got to suggest what was worth thinking about and how one might think about it. Over the last few years, it's been incredible to watch Film Comment become both more comprehensive and more polyphonic, as Nic Rapold has invited several microgenerations of critics to cross over and join in telling the Official Story of world cinema—a story that involves a greater diversity of moving-image art, from an ever-greater diversity of voices (who all got the benefit of his prompts and dogged line edits). Until last spring, I learned as much from Film Comment as I ever did. —Mark Asch
I immediately burst into tears remembering my first time in print for my Film Comment review of The Black Power Mixtape 1967-1975. I was in Stamford, CT, with my brother, Roy, and my late sister-in-law, Venita. Having come to town unexpectedly after recently moving to Florida, they were staying in a hotel near a mall with a PF Chang's and a huge Barnes & Noble. While they were walking slowly to the restaurant, I popped into the B&N and bought four of the five copies of the September-October issue and joined them at the table. I gave them a copy of the magazine and Venita asked me to autograph it. Then we asked a waiter, who was confused and irritated, to take a picture of us while we posed with each of us expressively reading a copy of the magazine. The picture is dark and blurry taken by candlelight—the waiter was no Kubrick—but I loved it. A happy memory of a time that marked the beginning of Venita's cancer battle. She passed away nine months later. I'm so grateful Gavin [Smith], who gave me a shot from Elisabeth Subrin's recommendation, and to Nic [Rapold]. A dream come true. Whenever, I'm low I'm happy to Google "Ina Archer, Author at Film Comment." —Ina Archer
For a movie-besotted kid who moved around a lot and was never remotely close to a thriving arts scene, reading Film Comment was a formative experience, one that had a permanent influence on my life. Not only did the magazine let me know that I wasn't alone in my obsessions—even when my surroundings seemed to suggest otherwise—it also helped guide them, sustaining my curiosity, expanding my interests further and further outward, and giving me a language with which to understand them. Through the generous mentorship of Gavin Smith, I was assigned to write my first feature for the magazine in 2009, and that was the beginning of the most important editorial relationships I've had so far in my short career. In a publishing industry that is quick to pigeonhole writers and even discard them once they show signs of exhausting their one or two subjects, both Gavin and his successor, Nicolas Rapold, encouraged me to go broad, to write about whatever I loved. For the past decade, in the magazine's pages, I've not only tackled what quickly became my usual beat—Chinese-language cinema—but also was given a lot of space to go deep on Claire Denis, Aretha Franklin, the Waiting to Exhale soundtrack. I'll always be grateful for those opportunities, which made me feel that the alleged dead end of arts criticism was still something profoundly worthy of being a part of. And to be in the company of the most extraordinary writers in the field—too many to name here—was always an honor, a motivating and intimidating one. For all those reasons and more, Film Comment is irreplaceable. Film culture cannot exist without the thinking and feeling it inspires, and the best of that was captured through the decades by the magazine's incredible roster of writers. —Andrew Chan
Like a lot of people, I came-of-age as a cinephile reading Film Comment. At the time, Gavin Smith was the editor-in-chief, and his stable of writers from that mid-aughts era still reads to me like a roll call of many of my film critic heroes. Joining their ranks never seemed remotely feasible, so I took my writing to other outlets, a good many of which (such as the one you're currently reading) are outwardly indebted to Film Comment's blend of intelligent prose and film-historical perspicacity.
When I eventually was able to place a piece on the magazine's website, in 2015, it was immensely satisfying, but also nerve-wracking: here my byline was sharing webspace with many of the names that helped shape my cinematic worldview. One piece that sticks out to me is Jonathan Rosenbaum's "The Classical Modernist: Manoel de Oliveira," from the July-August 2008 issue, a 4500-word analysis of the Portuguese director's career with a ranked list of his feature films tucked right in the middle—the most substantial listicle ever conceived. In 2019, I contributed a short piece to the magazine on Oliveira's Doomed Love (1978), and six months after that I wrote the cover story for what is, as of now, one of the magazine's final issues, on Pedro Costa's Vitalina Varela (2019). During my interview with Costa, I asked him for his thoughts on Oliveira for an essay I was writing on the latter's final film, which he offered to me with a reverence reserved for only the most towering of cinematic figures. Unbeknownst to anyone else involved, it was something of a full-circle moment in my life as a critic, one precipitated by Film Comment through its long-standing commitment to the work and artists that truly matter. —Jordan Cronk
I wrote for Film Comment for less than four years, but in that time it wholly reconfigured what I thought was possible to write and think about in a public venue. Film Comment was not disposable; it was the nexus of a network of people who took their time with reading, with films, with ideas, because they believed that those things, when worth it, stick around. Publications live when people invest in them and feel their investments return. A lot of people were invested in Film Comment, and that affected not only that I wrote and what I wrote, but how I wrote it. Though I didn't contribute for nearly as long as others, I already feel bereft without it. —Shonni Enelow
I was a junior in college when my friend Anne put the idea in my head: "You should write for Film Comment. You're discerning, they're discerning. It would be a perfect fit!" (Actually I think her word was "opinionated," but when the legend becomes fact, print the legend.) Around the same time, I inherited the personal library of a late local film critic, and soon delighted in poring over back issues of Film Comment. One that especially captivated me showcased a grizzled but soulful William Holden on the cover (May/June 1994), and featured writer and Peckinpah scholar David Weddle's coverage of the making of The Wild Bunch a quarter-century after the fact.
Committed to academia for lack of a clearer path to lifelong immersion in film (having eschewed the production track early on), I was struck by Film Comment's approachable erudition, a paradox I would've thought irreconcilable. Already bristling at the scholarly zeal for jargon and equally allergic to mainstream film culture's obsession with celebrity gossip, I found in Film Comment an approach I could rally behind: one whose analysis was granular but devoid of obscurantist tendencies. Whether addressing formal concerns or contextualizing key figures and touchstones, it positioned itself not as gatekeeper (a professor once told me I couldn't use the word "suspense" until I'd learned the theory behind it), but gateway. Like Julia Child's cookbooks, it allowed that alacrity and commitment were the only prerequisites to mastery.
When I became copy editor (a position I took even before asking if it paid anything), I learned what a rare and precious thing the magazine was: an 80-page bimonthly booster shot of cinephilia; a plurality of discerning and fiercely opinionated voices having their say on visual culture. Its loss creates a vacuum that nothing else can fill. May it soon return to ride the high country. —Steven Mears
One of the first Film Comment articles I remember falling for—it was in a back issue with Leonardo DiCaprio on the cover—was Kent Jones's meticulous deconstruction of the film criticism of David Thomson. Of the many charges Jones brings against Thomson in that essay, the one that lingered with me then was that you could picture Thomson "building a raft and finally departing the island of Movie for the mainland of Book." Thomson, the argument went, had expected the movies to give him everything and turned against them for an imagined refuge in the literary when they failed. Among other things, it was an essay about the dangers of loving movies too much. "All good film criticism," Jones wrote, "like all good writing, all good art, offers a workable model for how to approach the world around you. Which is why a solid rule of film criticism should be: beware of how much you talk around a movie in proportion to how much you confront it head-on. If you fall for the idea that cinema is any more or less powerful than any other art form, that movies are anything other than aesthetic objects that exist in reality, then you're fooling yourself."
I can't overstate the effect those three sentences had on me as a teenager clumsily trying to write about movies. I kept them close: my longed-for shortcut to sounding like a grownup, my little mantra.
What did it mean to treat movies like "aesthetic objects that exist in reality"? Here, in contrast to the expert close readings that fill the rest of the essay, the terms themselves were vague. The point was to articulate a tone: a keen sense of specificity and a mistrust of boyish, naïve cinephilia. That tone has been a Film Comment specialty. At the magazine's best, it often takes the shape of a kind of clarifying attention to the varied and constantly fluctuating conditions under which films get made and shown. "Topography changes every decade," Manny Farber told Richard Thompson in the magazine's pages in 1977. "Now we're into a new topography."
And now another topography. Between the end of last year and the start of April, when the dismaying announcement that Film Comment had been put on "indefinite hiatus" was still fresh, I came across two pieces in the magazine that reminded me how often I've relied on it to track the mercurial relationships between films and the interlocking circuits within which they move. One was a beautiful essay by Phoebe Chen about the "gradual, lived revelation" of family histories in Ann Hui's Song of the Exile (1990). The other was an acute reflection by Devika Girish—Film Comment's assistant editor—about the asynchronous, place-specific, contingent business of writing film history in real time. Both pieces militate against what Girish calls "totalizing master-discourses." What they insist on instead are the shifting and non-transferrable inflections of moviegoing that those discourses suppress: a given set of viewing conditions, a singular personal history, a precise political conjuncture. What Girish wrote in that essay about Kirsten Johnson's Cameraperson (2016) could also be said about the best moments of the magazine that's done so much to give pieces like these a home. She called Johnson's film "a reminder that to write about movies is to write about our encounters with them—to not just contemplate the sky and its bursts of lightning but also to tell the story of one's gasps and sneezes, even if they end up on the floor of history's editing room." —Max Nelson
"Why does cinema, more than other arts, seem alienated from its past?"
In the September-October 2016 issue of Film Comment, Imogen Sara Smith wrote an article about her experience attending the San Francisco Silent Film Festival. Smith brings to bear her vast knowledge on the subject, providing insightful commentary on the films being screened. But she goes much deeper than just rattling off capsule reviews of each film. So much of film criticism, particularly in its online iteration, is pegged to the news, to current releases, contemporary trends. There is nothing wrong with that. But obliterating the past, or discounting the past as unimportant, means there's no opportunity to gain an understanding of the art form. Smith's question about cinema being "alienated from its past" is an urgent one.
Her piece is really a meditation on why we watch "old" movies (or why we don't), and how nostalgia plays into this, and what does nostalgia even mean anyway? There's good nostalgia and bad nostalgia. Smith writes, "'Nostalgia has come to mean a sentimental, honey-hued, soft focus view of the past, cozy and safe and incurious. Actually the word has pain at its root: it is formed from the Greek words for homecoming and pain, so it really means homesickness, the sharp anguish of yearning for something lost." Smith talks about the passage of time, and the abyss it can create. When you watch an old movie, you go back in time. Things were different back then. Smith writes: "Unfamiliarity should be one of the things we want from art—to be surprised, to be transported."
"Eternal Return" is one of my favorite pieces published in Film Comment because of its meditative quality. I didn't just read the piece. I sank into it. Smith's beautiful thoughtful prose provided space to consider my own thoughts on time, nostalgia, the past, the movies. In a fast-paced world, where even short-term memory is compromised, Smith's piece represents the best of what a serious film magazine can offer. —Sheila O'Malley
My first piece for Film Comment was an entry in the Feeling Seen column, a space where writers could give more personal reflections on films and representation. But really this is something that the magazine has always done particularly well: offered a way of thinking about the intimacy we foster with the screen and how we find pathways to ourselves through cinema. I think Film Comment has always been characterized by its accessibility, and through its pages I learned so much about cinema history and the technical aspects of filmmaking. In so many ways the magazine represented the formative stages of my film education, long before I ever stepped foot in a university classroom. What's more, the criticism I found there had a special kind of dynamism—it felt interactive, rigorous, democratic—and gave me the model for how I would approach film criticism ever after. —Kelli Weston
Film Comment was always the magazine I wanted to write in. It was what I aspired to, and what seemed impossible: impossibly erudite, clever, white. I had to keep pinching myself once I got a review in there, and then another, and another. Still I never mustered the courage to even pitch a feature. I saw it grow in recent years, in ways I couldn't have imagined when I was dreaming of it as the pinnacle of a film writing career. I wish that magazine—still erudite, still clever, but more accessible, eclectic, smarter, and diverse— were still here. I think I'd have the courage to pitch something now. —Genevieve Yue