Twilight Time:
The Return of the Drive-In, Part Two
By Nick Pinkerton
Part Two:
Private Boxes
Like cinemas everywhere in the United States, the drive-ins felt the squeeze as skyrocketing television viewership cut into their audiences. By the end of the 1970s, a series of factors conspired to shutter the ozoners en masse: the energy crisis, resulting new streamlined car designs that made the prospect of sitting in the driver's seat for four hours less appealing than it had been with the battleship sedans of yore, real estate interest rate hikes that put a hefty price tag on large tracts of land of the type that the drive-in required to make a profit, and the appearance of home video technology.
The audio quandary that had plagued drive-ins from their earliest years had been to some degree solved as many owners took to broadcasting the films' soundtracks on AM radio, but this was too little, too late. Some turned to programming hardcore movies, like the Theatair X in Clarksville, Indiana, across the river from Louisville, which started with adult fare in 1970—they finally lost their drive-in in the late '80s, but soldiered on against hostile local government in some form until 2015. Many didn't last nearly so long. Drive-ins became multiplexes and their parking lots, in some cases, while many others became the site of flea markets, strip malls, megachurches, or commercial parks. Some were simply left to fall to rack and ruin. There were several in the precincts of Dayton, Ohio, where I spent the better part of my college years. I climbed inside a hole in the burnt-out concession stand of the Sherwood Drive-In (c. 1946) and came out with a massive roll of faded orange tickets that I held onto for ages, but lost somewhere along the line, and I shot part of a pretentious "Antonioni-esque" 16mm short in the weed-choked lot of the off-season Skyborn (c. 1950), which finally gave up the ghost in 2015, and now is well along in being fully reclaimed by wild violets and thistle.
At no point in my life have I been a true drive-in regular, so by virtue of the exoticism of the experience, I remember every drive-in outing that I have ever had, going back to a pairing of Crocodile Dundee 2 and Big-Top Pee-Wee in 1988, when I was seven. This trip, a memorable 1994 all-animal bill of Mike Nichols's Wolf and The Crow, and several others would have occurred at the Oakley Drive-In on Madison Road in Cincinnati, Ohio. This 12-acre, 900-car facility was put up in 1955 despite the opposition of the nearby Children's Home and neighbors, placated by being supplied speakers that would let them listen in on the movies for free, and opened the following year with a double-feature of Hitchcock's The Man Who Knew Too Much—co-starring hometown girl Doris Day—and the Robert Ryan Western The Proud Ones. By the mid-'70s, they'd gone full exploitation: on one night in summer of 1975 one could take in AIP blaxploitation vehicle Bucktown with Fred Williamson and Pam Grier; William Girder's black The Exorcist cash-in Abby (1974), made independently a little ways down the Ohio River in Louisville; and the women in prison picture Savage Sisters, the last of several films shot in the Philippines by producer/star John Ashley.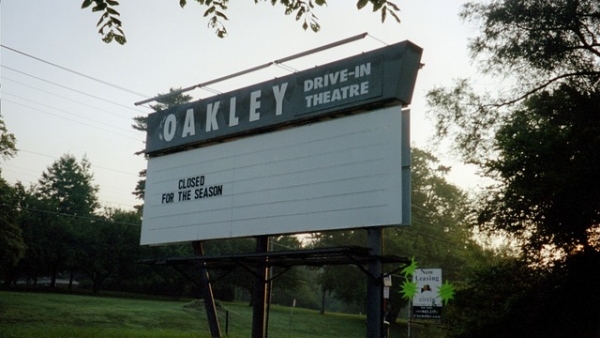 Today the Oakley's footprint is the site of an assisted living community and pet salon, the theater having closed in 2005. (A commenter at the invaluable website Cinema Treasures recalls, "You needed to wear Kevlar and a side arm [sic] just to feel safe enough to watch a movie." This does not square with my recollection.) Another key drive-in of my youth, the Park Layne Drive-In, outside Dayton in New Carlisle, made it until 2007. Where once 500 cars had assembled for a 1962 grand opening anchored by Elvis Presley in Blue Hawaii (1961); where on a May night in 1974 one could enjoy both Truck Stop Women and The Dirtiest Girl I Ever Met (the U.S. title of 1970 Brit sex comedy Cool It Carol!); where in 2001 I once spent a mere $12 to treat my girlfriend to Jay and Silent Bob Strike Back and The Others; now stands the Medway Church, whose website reads "In February 2008, God delivered us 17 acres of 'promised land': the Park Layne Drive In Theater. Part of the blessing was being able to show free movies to the community during the summers of 2008-2010."
The Lord taketh away, and the Lord giveth. The American drive-in had been hit hard by the costs of the analog-to-digital projection changeover that sank the Skyborn and so many others, their number dwindled by now not much above 300. Even before the present plague, though, it had begun a tentative turnaround. This has come in the form of pop-up guerilla drive-ins made possible with digital projectors affordable to the middle-class consumer; the occasional new drive-in endeavor, the most ambitious of these a proposed 72-acre monster in Eustis, Florida; and the re-openings of some drive-ins long lain fallow, like the 66 Drive-In in Carthage, Missouri, reopened in 1997, or the Bangor Drive-In in Hermon, Maine, which in 2015 returned to operation after a 30-year hiatus, its screen having last lit up for Rambo: First Blood Part II (1985). A somewhat unique success story is represented by the Mahoning Drive-In, a 1000-capacity ozoner with a 110-foot-wide screen built in 1948 in Lehighton, Pennsylvania, approximately equidistant from Philadelphia and New York City in the Mahoning Valley. Estimating the cost of digital changeover to be prohibitively expensive, owner/projectionist Jeff Mattox held onto his Simplex E-7 projectors and branded the Mahoning as an all-35mm, all-repertory drive-in, the only venue of its kind in the United States.
The programming at the Mahoning, which Mattox handles with Virgil Cardamone and Matt McClanahan, two Temple University film students who became protégés after stumbling across the operation, tends to hearken back to the 1960s, '70s, and '80s, and the drive-in's legacy as a home for red-blooded genre fare: kaiju and Universal monsters and Hong Kong actioners, most of which were released too late to work the U.S. drive-in circuit in its glory days, but would've gone over like gangbusters if they'd made the rounds.
There is a guiding aesthetic at work at the Mahoning, which Mattox has referred to as "an operating museum," and I expect it will still be packing them in for Friday the 13th marathons long after social distancing, God willing, becomes a thing of the past. But current events have made a contingency plan of the drive-in, and with indoor cinema screens gone dark, there has been a bustle of movement to provide new outdoor screens compliant with the rules dictating how we live now. A listicle run in Time Out New York this July began, "Outdoor movie-going is no longer a relic from the last century. Lucky for us, there's a boom of pop-up drive-ins now operating in NYC," listing the Rooftop Films-curated Brooklyn Drive-In at the Brooklyn Army Terminal in Sunset Park, the Skyline Drive-In on the Brooklyn waterfront in Greenpoint, and the Queens Drive-In at Flushing Meadows Corona Park.
Even while admiring the resiliency and resourcefulness behind these pop-ups, I have a difficult time telling myself that any of this could be described as "lucky," and through the summer months I listened with unabashed envy to friends abroad reporting of their cinemagoing adventures, of watching films in indoor theaters at Il Cinema Ritrovato, held in then-recently-pestilent Northern Italy with no known resultant loss of life. For if I can take pleasure in the excess and the pizazz of the 1950s drive-in, and the role that the drive-in played through the years in underwriting the existence of a breed of mangy, uncouth, often amateurish pictures that are to my mind some of the tarnished crowning jewels of American cinema, I have never exactly been convinced that watching a movie in one's car is necessarily the most desirable way to watch a movie.
Part of this is generational. That the drive-in experience left an indelible impression on generations of moviegoers is testament to the role drive-ins would play in the films some of them would later make: the spaceship barnstorming sequence in Joe Dante's Explorers (1985), or the crane over the drive-in screen in Quentin Tarantino's Once Upon a Time… in Hollywood (2019)—the Paramount Drive-In in South L.A., standing in for the Van Nuys Drive-In—the film's most serenely lovely moment. Those who experienced the steamy passion pits of the sex-and-drugs '70s may warm themselves for a lifetime in the glow of that nostalgia, but for myself, it is difficult to grow too moony over the memory of watching Deep Impact (1998), sober as a deacon, in a burgundy Mercury Topaz. As one of the great perpetuators of the mythical mystique of the good old dirty days at the drive-in, John Waters, put it in a 1986 interview published in Exploitation Retrospect: "The problem now is that the drive-ins that are open just show the regular crap! What made drive-ins so great is that there were films made only for drive-ins. They don't make those films anymore. They just show 'normal' movies. So, unfortunately, I think that 'The Golden Age of Trash' is over. I think hardcore (porn) ruined it, and I think Hollywood co-opting violence ruined it. Because those were the two things that you really couldn't have, and what was the staple of all drive-in movies was [sic] sex and violence. Now Hollywood makes them, so there's no rules left to be broken."
Waters's words reflect the fact that the history of the drive-in is inextricable from the history of censorship in big-budget American cinema, and is also inextricable from the history of the automobile in the United States, which is in turn inextricable from the history of suburbanization, white flight, and a whole host of other phenomenon related to how social space is treated, and fenced off, in this country.
In thinking about car culture, I am faced with an uneasy divide between theory and lived experience. In theory, I believe that all of the above phenomena have been deleterious for the Republic, have served to make strangers of neighbors, to erode an always tenuous sense of commonweal, and to accustom us to a daily toll of roadside carnage in the name of convenience. (Jean-Luc Godard's mother died in a traffic accident outside of Lausanne in 1954, when he was in his early twenties, and it is difficult not to think of this when watching the famous tracking shot of the pile-up in 1967's Week-end.) In theory, I believe Eugene Morgan's worst presentiments about the coming of the automobile have been borne out: that they have been a step backward in civilization, and that a nation that had made greater investments in high-speed rail and mass transportation would in the main be a healthier and happier and more beautiful nation. And I believe that the drive-in represents one more aspect of the atomization of the audience, however imperfectly democratized, that once frequented the neighborhood movie theater, the local doctor and the banker seeing the same film as the waiter and the gas station attendant and the pool hall loafers. All of which is almost certainly romanticizing a monoculture built on monopoly and an absence of autonomy and therefore choice, the freedom that was the promise of car culture, but which I cannot entirely scoff at in the face of the present of streaming service filter bubbles and the near-entire absence of public assembly and public life.
But that is all in theory. I have driven the PCH in a convertible and navigated the Blue Ridge Parkway in fall foliage, and these are among the purest pleasures that existence has to offer. Automobiles have come and brought with them horrors, but whatever ambivalence Godard may have nurtured in his breast regarding the fallout from our transformation into an automotive civilization, when he went to pick up Anne Wiazemsky at Paris Nanterre University, he was driving a blue Alfa Romeo Spider—Jack Palance drives a red 2600 in Contempt (1963)—and for everyday use he had a Citroën DS 21, the model driven by Alain Delon in Le Samouraï (1967), and paid homage to in an earlier incarnation by Roland Barthes in his 1957 "The New Citroën," which begins by stating "I think that cars today are almost the exact equivalent of the great Gothic cathedrals: I mean the supreme creation of an era, conceived with passion by unknown artists, and consumed in image if not in usage by a whole population which appropriates them as a purely magical object."
+++++
Though I kept a car in New York City for a decade, inconveniently and at expense I could scarcely afford, I have been without one this year, and therefore have been left behind by the pop-up drive-in revolution, along with the majority of New Yorkers. If ever-increasing ticket prices have made moviegoing something less than a perfectly egalitarian pastime, how much more does the addition of the cost of car insurance to the tab? There is something profoundly depressing about the half-measures of "new normal" alternatives, and given the choice between a substitute for public activities that I used to enjoy and just staying in—or going to somebody else's place—I've generally chosen to eschew the substitute. I want the real thing or I want nothing, anything else is like kissing your sister through a screen door, to borrow a line from Sega Genesis's Mutant League Football. Catching up in-person with a friend who'd stayed away from Google Hangout "gatherings" during the deep quarantine months, he quoted a line from Abel Ferrara's King of New York (1990), when Christopher Walken's Frank White asks Larry Fishburne's Jimmy Jump why Jump never visited him in prison, and Jump responds "Who wanted to see you in a cage, man?"
But I have caved, and I have sampled the attenuated version of the once-beloved world. I have eaten Peking duck in a makeshift "dining room" fashioned in a gutter on Mott St., and by the end of September I was nearing 200 days without seeing a movie projected publicly with an audience of rabble not of my personal acquaintance—the last had been a 35mm print of Surf Nazis Must Die (1987) at Nitehawk in Williamsburg in early March. I am not so starved for cinema as to take the Hoboken ferry to watch Tenet knowing full well that in an infinity of alternate universes there still is no universe in which I feel strongly about Tenet. And so, bearing in mind the sometimes yawning gulf between theory and practice, I set out to experience the possibilities of the pop-up drive-in age.
My plans to attend one of the 2020 New York Film Festival's drive-in screenings were made with a couple of friends, one of them the proud owner of a sporty 1994 Jeep Tracker. The screening in question was the Waters-curated "Art Movie Hell" double-bill at a jerry-rigged "Bronx Drive-In" set up in one of the parking lots of the Bronx Zoo. The program consisted of Gaspar Noé's Climax (2018) and Pier Paolo Pasolini's Salò, or the 120 Days of Sodom (1975), the final film completed by its auteur, himself a victim of sorts of car culture, having been murdered by being run over with his own Alfa Romeo shortly before the movie's premiere. (In 1964, several friends defending him from a fascist attack in front of the Casa dello Studente in Rome had nearly been flattened by a Fiat 600 driven by Adriana Romualdi, son of the president of the neo-fascist Movimento Sociale Italiano party.)
It was the most appealing available option. However curious I might've been about various other NYFF films, I'm not sure they were suitable for discovery for the first time in a the drive-in. I hold the films of Cristi Puiu and Eugène Green—to cite only the festival's two most prominent anti-maskers—in the highest of esteem, and for that reason I do not want to see them for the first time through a windshield. In the case of "Art Movie Hell," I was already familiar with both movies, and therefore would feel no burden to be on my best behavior as a viewer. This program of drive-in inappropriate features is something near to the real-life fulfillment of a gag from Waters's Polyester (1981), in which Tab Hunter plays the manager of a drive-in showing a Marguerite Duras triple-bill—used for the film was the Edmondson Drive-In in Catonsville, Maryland, closed in 1991, though the Bengies Drive-In, featured in the Targets-esque climax of his 2000 Cecil B. Demented, is still operating on the other side of Baltimore in Middle River.
Well, it wasn't a movie theater, but it was something else, and I was grateful for it. The words of a much-circulated statement issued by drive-in inventor Richard Hollingshead after his successful gala opening remain as true as ever today: "In the Drive-In theater one may smoke without offending others. People may chat or even partake of refreshments brought in their cars… The Drive-In theater idea virtually transforms an ordinary motor car into a private theater box." And in that private theater box, one has liberty to act the fool in a way that would be shushed or reported to the police in most cinemas. The refreshment stand in the Bronx was rather underwhelming, but I had a box of rosé and some Utz Crab Chips and various other odds-and-ends on-hand, and when Climax's opening needle-drop of the instrumental of Cerrone's "Supernature" hit, everybody could go off in the car and pump our fists like we were coked out of our gourds in Paradise Garage in 1978, and all of that was so much to the good.
A truth too little acknowledged about moviegoing—which is often treated as though it is an infinitely reproducible experience—is that cinema is a site-specific medium. The "same" film—specificities of materials aside—is not seen the same way at a movie palace as it is on an airplane, not seen the same way at a multiplex as it is on a television over a bar, not seen the same way with an opening night crowd than in an empty cinema on the last day of release. The phenomenon was described by critic, curator, and filmmaker Sheldon Renan in a 1966 piece for Film Culture, "The Blue Mouse and the Movie Experience," a paean to the Blue Mouse Theater in Portland, Oregon, which doubles as a paean to the totality and singularity of every single moviegoing experience.
Writes Renan: "The environment of the experiencing of the projection of the shadows that make a movie is as important as any other part of the movie experience. There are, to begin with, all the subjective factors, such as how much the viewer paid, what he feels about life and about film, what he had for dinner. There is the kind of space the theater has. There is the amount of non-projected light in the space. There is the distance of the viewer from the projected image. There is the quality and quantity of the audience. There is the smell of the theater. There is the smell of the man sitting in the next seat. The screening environment can detract from or enhance the movie. (At a New York City 42nd Street theater, I saw three fistfights and one case of the DTs during a single showing of Count Three and Pray, starring Van Heflin as a preacher handy with his fists. The movie had overflowed the screen.)"
This gets at, I think, something essential to any film viewing that takes us away from the controlled, variable-minimized environment of the home, which is where I suppose most of us have watched the majority of our movies through 2020. (Even at the cinema the varieties of print quality that Renan describes have been disappearing during the rise of DCP.) We all have our ways of hierarchizing these experiences, and though I would not venture to say that it is impossible to have life-altering experiences with films at a drive-in—I'm sure millions of people have—it has never yet happened to me. Largely untouched by prestige product through its long lifetime, there is perhaps something fundamentally unserious about the drive-in presentation, something about that "private theater box" experience that invites bad behavior—and this is not necessarily a bad thing. Coming out of film school with a load of pretenses and a habit of watching movies in hushed silence, it vitally loosened me up to go to work in a video store and reacquaint myself with the fun of seeing films as background, something to be caught out of the corner of your eye, goofed on with co-workers, rewound or fast-forwarded to get to the good bits. Today I am by vocational necessity in general practice a careful, close-reading viewer, but I sometimes find it helpful to remember that movies, like art in general, like life, don't always have to be a big deal. Maybe this is accountable for the loose and free manner of the best of the exploitation filmmakers who were working towards a drive-in opening, who were able to turn out films immune to the dry rot of self-seriousness.
Climax, which I'd seen and written about on its initial release, had struck me at the time as a half-great film: its up-front dance numbers fierce and infectious, its bad trip, things-fall-apart litany of horrors back-half a bit of a slog. This time around, it came through as more of a complete picture. I don't mean to be churlish when I say that after the last seven-plus months, Climax—in which men and women persecuted by an unseen horror, none of them seeming to know who to assign the blame of loosing it among them, devolve into a cacophony of jabbering and shrieking while those trying to hang on to a sliver of sanity are forced to hold fast while negotiating a nightmare landscape fraught with perils and snares—well, it played a little differently.
The reasoning behind pairing Climax with Salò, or the 120 Days of Sodom is not hard to guess at. Both are ensemble films, less reliant on developing character than on describing a disintegrating, race-to-the-bottom group situation in which people feed off of one another in exhibitions of avalanching bad behavior and egg one another on in the worst of ways, and both take place largely in isolated, closed environments—a snowbound rehearsal space somewhere outside of Paris circa 1996 in Climax; in Salò, a mansion in the fascist Republic of Salò set up as a sex resort stocked with helpless teenagers from the countryside by four libertines in the waning years of Second World War. (The resonance of both in cabin fever times I don't need to underline.) Both are films that come with their own syllabi in the form of cited influences and inspirations—beyond the source text by the Marquis de Sade there is a sort of "reading list" in the opening credits of Salò, which cites Barthes, Maurice Blanchot, and Pierre Klossowski; in Climax we are presented with piles of books and VHS tapes, including a copy of Salò.
All this I understood, but the particular deviant genius of showing Salò in a drive-in only became clear once the movie began to play, for Salò is not only an uncomfortable movie, it is in some essential regards an insoluble movie, a problem without an answer. In his introduction, Waters quoted Pasolini's famous trinity of self-identifications, often taken in this binary age and place to be strange bedfellows: "I am a Catholic, I am a Communist, I am a homosexual." Paradox was Pasolini's natural habitat, and this is what makes him such an eternal source of trouble. Infamously, in his poem "Il Pci ai giovani" ("The Italian Communist Party to the Young People"), which described clashes between the police and students at the Valle Giulia School of Architecture in Rome in March 1968, Pasolini drew opprobrium from many of his allies on the left for appearing in some passages to sympathize with the police as "sons of the poor" who "come from urban or rural outskirts."
Pasolini's paradoxes are important here, because they inform the knotty, contentious, multivalent artworks that he produced, the sort that only show themselves in all of their difficulty when seen with an unpredictable audience. Pasolini didn't, it should be noted, declare himself on the side of the police in "Il Pci ai giovani"; a man who had been run out of Friuli by the carabinieri on morality charges, then in his adult life seen a litany of arrests, killingly costly trials, and charges, had the law ransack his apartment, and watched three assaults on his person by neofascists dismissed by judges could hardly be expected to do so. What he did do is question the basically bourgeois nature of the student rebellion. (As clarified in a later interview: "I say: you students are spoiled brats, and I hate you as I hate your fathers.") It was on account of this abomination of the bourgeoisie, and his fear of its total domination of every aspect of culture, that the Communist Pasolini took several positions at odds with good leftist party line: against compulsory education (which "creates by force desperate gladiator," as he told the journalist Furio Colombo in a final interview, titled "We Are All in Danger"), and against the liberalization of abortion (from a piece in Corriere della Sera, in 1975: "Who has tacitly desired it, who has tacitly promulgated it, and tacitly introduced it, so that it is now an irreversible trend in people's habits? The consumerist power, the power of the new fascism.")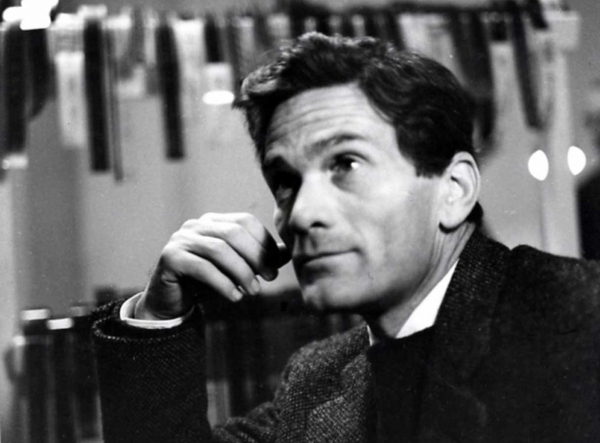 Sex and the old fascism lie at the heart of Salò. Pasolini couldn't reasonably be supposed to support fascism any more than he could the police—his brother, Guido, had died taking up action against Mussolini's state, and the campaign of harassment towards Pier Paolo had been largely one of connivance between the law of the Christian Democrat elite and neofascists—but this didn't prevent many, in the lead-up to his film's release, to speculate that the director was using the cover of a film to indulge his own less-than-egalitarian sexual predilections. Given the chance to set the record straight, as was his habit, he threw gasoline on the fire; asked if his young performers were masochistic, he responded, "If I chose them, that means they are."
Waters, in his introduction to Salò, made an imprecation to the audience. At the drive-ins of old, he explained, the audience would respond to gore or sex or anything else that fed their appetite for transgression by honking their horns. Watching Pasolini's swan song, he said, "I want you to honk every time you look on screen and see art." I don't credit this as being a premeditated prompt to create a conceptual piece—Waters made similar comments before a Wellfleet Drive-In screening of a double-feature of Kitten with a Whip (1964) and Night of the Lepus (1972) at the Provincetown International Film Festival this summer—but it did have the effect of adding an extra layer of discomfiture to an already profoundly discomfiting movie. Giving an audience permission to "have fun" with Salò is to make them vulnerable to its trap, for I know of few more self-indicting films. It indicts its author, and it indicts its viewer: in its final chapters, we are given the literal point-of-view of the libertines as they watch the fatal torment of their captives through binoculars. To watch the movie is to ride the devil's hairpin, whiplashed between moments of gallows humor and stark horror. You're not wrong to laugh with Salò's sadists—I have and I did—but you're absolutely in the wrong in laughing at Salò. There is no right way to feel about Salò, because Salò itself is impossibly and eternally wrong. It can leave you angry at yourself, and angry at others. And so several times, as horns were parping away, I thought of my fellow viewers: "You're only doing that because a famous person told you to… you fucking fascists!"
This is all by way of saying that I had a great time. Such experiences—sometimes frustrating, sometimes elating—are part of being one among an audience of strangers, and no matter how the streaming services' multitudes of mouthpieces may try to convince us that this experience is incidental or negligible and that we ultimately lose nothing by staying safely home with eyes open under spigots of their curated content, to do without them would be an unutterable loss.
There are many ways to be part of an audience. There is the feeling of being happily subsumed, the goodwill of sensing that you and the people around you are part of the same tingling organism—the feeling evoked, bittersweetly, at the conclusion of King Vidor's The Crowd (1928), when James Murray's beaten-down-by-life John Sims forgets for a moment his worries and rocks along in laughter to a vaudeville show with his small family and a room full of strangers.
There is the feeling of being entirely at odds with the audience around you, of being alone in reverence to something the jeering crowd cannot understand, or alone in disdain for something they seem to be lapping up. (You can never really know the secret hearts of all of these strangers, of course, and this mystery is part of the experience, too.)
And then there are the countless other variations that make up some of the innumerable unique details of every cinema outing that Renan describes in "The Blue Mouse and the Movie Experience." An artisanal drive-in film festival might not offer the perfect screen or the perfect audience, but this imperfection is as essential to the attraction of being in an audience as is the loss of control of one's environment. An audience can mar or burnish or scuff an experience, but whatever it does it distinguishes the experience. Wherever one places the drive-in in the hierarchy of cinematic experiences, it's an audience, and an audience right now is enough.
Top: Photo by Maike Schulz, courtesy of Rooftop Films.