Stronger Together:
On the Rise of Female Documentary Collectives
By Bedatri D. Choudhury
"The common man had no place of his own. So I went to fight for him," Somi tells her son as they sit on a rock in NoCut Film Collective's A Rifle and a Bag. Somi and her husband Sukhram, like hundreds of others, are erstwhile Naxalites, Maoist rebels who surrendered themselves under India's surrender and rehabilitation policy. This has left them in a vulnerable position, always under the scrutiny of the police and society at large, othered and distrusted by both. Somi and Sukhram's journey through the opaque Indian bureaucracy acquaints us with a hopeless negotiation between the State and those who were lured into giving up their ideals under the false promise of a better life. As much as the State's ineptitude breaks our hearts, Somi's grit and determination to reclaim her rights as a citizen, amazes. "However incomplete or subjective a point of view of an individual can be, we knew that Somi's views would allow us to tackle universal issues that lie outside of India's 'Red Corridor,'" Isabella Rinaldi, Cristina Hanes, and Arya Rothe, of the NoCut Film Collective, write to me.
The three filmmakers met and studied together at the DOC NOMADS documentary masters program that takes place at three universities across Portugal, Hungary, and Belgium. Before graduating in 2016, they formed the NoCut Film Collective so they could keep working together and produce independent, "author-driven" documentaries even as they continued to be divided by their physical locations. Rothe, Hanes, and Rinaldi hail from India, Romania, and Italy respectively and upon graduating, they were determined to start with a collaborative feature-length documentary. The result would be A Rifle and a Bag, a deeply empathetic film that underlines and reinstates the humanity of former Naxal rebels, and advocates for the rights that they are unjustly denied at the hands of the Police and the State. Shot in rural Maharashtra, the documentary tells the story of an in-between land where the wronged suffer through the government's prolonged lies.
It seems oddly poetic that three filmmakers joined forces to author a film on one woman: Somi symbolizes a whole population that the majoritarian state has failed. A Rifle and a Bag is a seamless experiment in which three voices become one and one voice stands in for many. The use of the word "author" in their email is revealing. Given my studies in film theory, it automatically recalls the grand old theory of auteurship—the idea that the director is the primary creative force behind a film, as propagated by French theorists André Bazin and Alexandre Astruc, furthered in the U.S. by the film critic Andrew Sarris.
"Whether the film is directed by one, two or three directors, the creative process is the result of the vision of all the people involved in making the film," the Collective's email reads, "In the hierarchical system of fictional narrative films, the input of directors of photography, screenwriters, editors, sound designers and many others is overlooked, fueling the ongoing myth of the authoritative director." Like most myths, it has been in circulation for too long. In their quiet, sure-footed way, women documentarians are at the frontlines of debunking it.
- - - -
Smriti Mundhra is a filmmaker who celebrates collaboration and is a strong critic of the assumption that co-directing a film is a sign of a filmmaker's incapacity to direct on her own. Following a Best Documentary Short Oscar nomination for St. Louis Superman, which she co-directed with Sami Khan, Mundhra was given unsolicited advice by a filmmaker she admired: "Be an auteur. Or you won't be taken seriously as a creative." From her first documentary, A Suitable Girl (2017), Mundhra has always co-directed films. She met Sarita Khurana, her co-director on A Suitable Girl at Columbia University when they were both enrolled in the film program. The documentary, shot in India, took seven years to make.
"Co-directing for this film was about creative synergy, but also about having support and help over the long haul, and help with the financing," says Khurana, who has co-directed four films. Her first collaborative venture was Bangla East Side (2004) with Fariba Alam, who is a photographer Khurana knew through the South Asian Women's Creative Collective. Bangla East Side follows a group of immigrant Bangladeshi teenagers growing up post-9/11 in the Lower East Side of New York City. "As the idea developed, I felt it was important to work with another director who was Bangladeshi. This really opened up a safe, sincere, yet critical space that you see in the film," Khurana. She, too, was told that Bangla should have been a solo project. Such advice, she says, only helps perpetuate an individualistic, competitive system that encourages documentarians to step on each other's toes to get ahead in the industry, and discourages important creative work that happens through collaboration.
Khurana echoes NoCut Film Collective's thoughts when she says that the documentary industry has fewer barriers than the fiction/narrative world. Perhaps women choose to direct documentaries more often because the systemic obstacles seem less daunting. It makes sense, then, to have a co-climber. Khurana reminds me of the many ways in which women have, culturally, formed alternative spaces for themselves outside of the patriarchal, dominant cultures: "Kitty parties, giving circles, informal childcare systems—there's a way of getting things done outside of broken systems that speaks to our resiliency and creative resistance." Micro-granting and loaning programs in Bangladesh also instantly come to mind.
Khurana has worked with community organizations and artist collectives, and she believes that collaborative work was an intrinsic part of her evolution as a South Asian artist in 1990s New York. "We had to create spaces for ourselves since none existed," she explains. "The South Asian Women's Creative Collective, South Asian Youth Action, and the South Asian Lesbian & Gay Association were all started around then, and are all still around. Working collaboratively has always felt like community-building for me." Extending the limits of the existing community is what drives Mundhra to collaborate too: "Sharing the directing credit is a meaningful way to bring somebody into the fold. You get a fellow colleague-comrade, create space and widen the circle."
Colonialism thrives best when people are encouraged to fight each other for a piece of whatever pie seems to be on offer, believing that there aren't enough resources to keep everyone satisfied. "Documentary, through its earliest forms, is a colonial concept. The white man appears and then because he is the master, he unveils the story the way he sees it. He, literally, becomes the seer," says filmmaker Marjan Safinia who, for the past 20 years, has been collaborating on directing documentaries. Most recently, she directed, with filmmaker Grace Lee, And She Could Be Next, a two-part documentary on women of color who are transforming the face of American politics from the ground up.
"The documentary industry is such a messy, broken system that collaborating seemed like the most efficient way to get things done," Safinia says. She believes a big reason why several women documentarians choose to co-direct is because "there isn't enough faith that the check writers put in women. It makes sense to band our strengths together and fundraise." Within the grant-starved documentary industry, it can get extremely lonely working on the same projectfor several years. Adds Lee: "And She Could Be Next was an ambitious project which I knew would take several years. Not only did I want a co-conspirator to tackle all of the myriad challenges that would come up, but we also needed an array of field directors to help us tell the story. The idea that the director is the sole creator of a film is ridiculous."
Lee's sentiments echoed those of every other female documentarian I spoke to. They also all gave shout-outs to their other collaborators, especially their editors, for being extremely crucial "authors" of the film in their own right. "It's not that creative differences don't arise, but it doesn't have to be that difficult to resolve them, make choices and move forward," adds Safinia. For all of them, an overarching agreement on the "why" behind the making of a documentary serves as a tacit contract that prevents the"I" from becoming too powerful. Says Safinia, "The basic thing is to understand that each one of us has full measure of control and authorship over the film, but we're choosing to do it together. Co-directing gets minimalized in our industry and it's assumed that the filmmakers are not capable enough to carry a film on their backs individually. That is such an antiquated and bizarre idea!"
The disruption of that bizarre idea is such a freeing concept that some filmmakers are even choosing to teach younger girls to codirect. When Meena Nanji was making View from a Grain of Sand (2006) in Afghanistan, she realized that the girls she was making the film about should have cameras in their own hands so that they could come together and tell their collective story. With filmmaker Amie Williams, Nanji founded GlobalGirl Media. What started with twenty girls in Soweto, South Africa, is now spread across ten different cities in four countries, and has trained hundreds of young women in digital media work. Nanji is, of course, walking the talk and is currently directing and producing Testament (working title) with Kenyan filmmaker, Zippy Kimundu. "The film is about British colonialism and the Kenyan independence movement," says Nanji. "I wouldn't be making an honest film if I didn't share authorship with a contemporary Kenyan filmmaker. Our families had very different experiences under the British and it was vital to me to have the perspective of the African experience in addition to mine."
As a mentor to the next generation of women documentary co-directors, Nanji teaches them the importance of "respecting yourself and others, listening a lot, and trying to tell the best story possible. As a global pandemic makes our social bubbles ever smaller, I think of NoCut and the ways in which their thoughts seamlessly jump across Italy, Romania, India, and beyond. Mundhra, Khurana, Safinia, Lee, Nanji, Kimundu, and many women like them have already paved the way to make sense of our isolating times. As Mundhra told me: "Whether filmmakers want to admit it or not, our vision is not singular. It's collaborative and I choose to embrace that rather than buy into this auteur idea."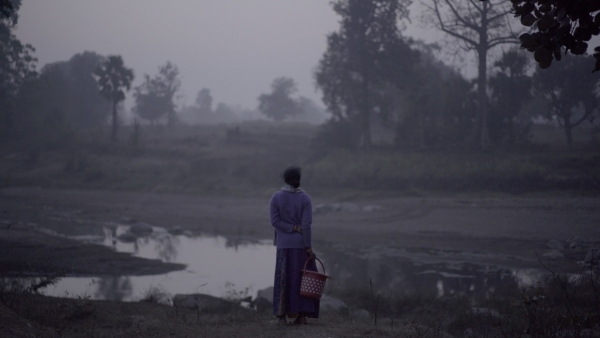 A Rifle and a Bag was programmed for Museum of the Moving Image's First Look Festival in March 2020.
Pictured at top: [from left] Hanes, Rothe, and Rinaldi.