Friends from the North:
Adam Nayman on the Canadian filmmakers in First Look 2015
The Toronto Filmmakers screening and discussion will take place Saturday, January 10, and Sunday, January 11, and Joy of Man's Desiring plays Saturday, January 10, as part of First Look 2015.
To begin, a personal disclosure. I've been asked to moderate a discussion about new Toronto films during the Museum of the Moving Image's annual First Look series and to write about the titles for Reverse Shot; to paraphrase the great Cliff Clavin, all of those involved—programmer Aliza Ma and each of the filmmakers—are people who have been in my kitchen. Toronto is a big city with a diverse filmmaking community, but the wing represented in MOMI's program—which could be generally described as young and only semi-professionalized—is tightly bunched together, socially if not industrially. Hopefully, acknowledging that sense of solidarity can shed some light on the shared qualities of the works rather than shadow my motives in praising them.
The most famous filmmaking movement in Toronto's history was probably the Toronto New Wave of the early 1980s, a group whose charter members—Bruce McDonald, Atom Egoyan, Patricia Rozema, Ron Mann, and Peter Mettler (with David Cronenberg standing slightly off to the side doing his own, squishier thing)—very quickly went from humble initiates to newly crowned local royalty on the strength of films that attracted international attention. The Toronto New Wave story doesn't necessarily have a happy ending, as its leading players "graduated" from low-budget and in some cases collectively produced works to more expensive and industrially affiliated projects—in effect becoming the very establishment that they had initially been positioned against (by critics and within their own ranks).
My colleague and fellow Torontonian Jason Anderson has theorized that the contemporary group of Toronto directors constitute a "New New Wave," but if that's the case, it's one that's still taking shape, and which hasn't fully crested yet. It also includes a number of filmmakers not showing at First Look, from Matt Johnson (whose The Dirties won the Toronto Film Critics' Association's Jay Scott award in 2013) and Calvin Thomas and Yonah Lewis (Amy George, The Oxbow Cure) to the more experimentally inclined Blake Williams and Stephen Broomer (both of whom showed in Wavelengths at the Toronto International Film Festival last fall). The best-known member of the cohort represented in New York is Kazik Radwanski, whose debut Tower (2012) showed at dozens of film festivals around the world and garnered critical praise commensurate with his level of formal accomplishment, which is high indeed.
In the course on the history of Toronto cinema that I teach at the University of Toronto, I try to place Radwanski's film in conversation with seminal titles like Don Owen's Nobody Waved Goodbye (1964) and Don Shebib's Goin' Down the Road, as well as Morley Callaghan's key Canadian modernist novel Strange Fugitive (1930), with which it shares both a calculatedly hardscrabble aesthetic and a poetically dismal view of its host metropolis. Tower's episodic account of a part-time construction worker and wannabe computer animator, Derek (Derek Bogard), living in his parents' basement and struggling with the demands and compromises of maturity, functioned as counterpoint and corrective to the romanticized man-children of the Apatow Era. Watching thirtysomething Derek lurking in King Street West nightclubs before tumbling unceremoniously across the threshold of his east end childhood home called to mind that great, self-lacerating lyric in the Wrens' "Everyone Chooses Sides:" "I'm the best seventeen-year old ever."
Cutaway (2014), the six-minute short Radwanski made as a follow-up to Tower, works as a companion piece, and is showing in First Look. For newcomers, it might be a strange introduction to the director's work, but it's also arguably his most accomplished short piece to date. Where Radwanski's previous shorts with producer Dan Montgomery (who has also been in my kitchen, and played on my basketball team) were strictly naturalistic works, Cutaway puts a decidedly stylized frame around its action. It's also about a laborer in Toronto, but its story is told entirely through close-ups of hands—at work and at rest, tapping out messages (which double as narrative exposition) on cracked iPhone screens and at one point concealing a head hung low in a moment of anguish. Besides connecting to Radwanski and Montgomery's proudly handmade style of filmmaking—their production and screening collective is called Medium Density Fibreboard Films, which suggests something rough to the touch—the formal conceit results in fast, clean storytelling rather unlike Tower's alienated languor. (Although just as Derek's Chinatown-esque, slow-healing forehead gash marked the passing of time in that film, a gruesome injury suffered in the first scene here is used as a kind of visual marker.)
Radwanski's Green Crayons (2010), a comic snapshot of escalatingly phlegmy grade-school hostilities that eventually reveals itself as a kind of primal-scene-of-the-crime moral fable, is more conventional, but it's also very appealing. Its immersion in the social and emotional universe of childhood suggests that Radwanski and Montgomery are versed in the works of the late Canadian documentarian Allan King, whose Warrendale (1967), about a home for emotionally disturbed children, is one of the greatest films ever produced in Toronto (actually Etobicoke, which Americans may or may not recall from CNN broadcasts, is the rabid base for the city's ex-mayor Rob Ford).
Before King moved his own production company to Toronto, he produced documentaries for the CBC in Vancouver, including Skid Row (1956), which profiled a group of alcoholics congregating close to the city center. The film endures as a compassionate testament to marginalized men. Medium Density alum Antoine Bourges' short Woman Waiting (2010) is also a Vancouver story, following the newly skint, forty-ish Jane (Carmen Casanova) as she applies to assisted-living facilities in British Columbia's biggest city. A scene where she tries to score a free gym membership from a conspicuously if dubiously polite receptionist bristles with shame and frustration, and the film overall is a measured reflection on the paralytic sensation of finding oneself suddenly ensnared in the social safety net.
First Look isn't showing Bourges's powerful 46-minute East Hastings Pharmacy (2012), a sort of spiritual sequel to Skid Row shot at a supervised-injection clinic in the middle of Vancouver's famously heroin-infested Down Eastside. The film is not a documentary, but its staged re-enactments, featuring nonprofessional actors, indicates a close relationship to its chosen neighborhood's everyday reality. Bourges's new short William in White Shirt is a companion piece of sorts also filmed in Vancouver; its star, Frank W. Studdhorse, had a memorable appearance in East Hastings Pharmacy but appears here as a different character, a young, seemingly unmoored Aboriginal man living with his mother and estranged from his infant son. The film is utterly naturalistic but also finely shaped; the opening shot of William's feet lazily dribbling a soccer ball just beside a yellow field marker implies a life lived tentatively on the sidelines, while the climactic visual rhyme of a photorealistic video game FIFA star (also clad in a white shirt) provides a strangely shivery grace note.
Where Radwanki and Bourges each subtly hint at the linkages within their respective filmographies (i.e. the alliterative relationship between Woman Waiting and William in a White Shirt), the three shorts at First Look by Sofia Bohdanowicz are explicitly connected: the Toronto-based experimental filmmaker intended Modlitwa (A Prayer), Wieczor (An Evening), and Dalsza Modlitwa (Another Prayer) (all 2013) as a trilogy. Modlitwa, which was shot at the Etobicoke home of the filmmaker's grandmother Maria is a lovely domestic study—an old woman's solo household rituals overlaid with poetry—that unexpectedly became a memorial when its subject passed away a few weeks after filming.
Bohdanowicz returned to the house twice more for a pair of companion shorts. Wieczor surveys the now empty dwelling over the course of an evening in increasingly dim light, with Maria as a deeply felt structuring absence (one possible reference point for this film of rooms and objects would the montage at the end of Antonioni's L'eclisse). The ingenious Dalsza Modlitwa literally combines its predecessors, with the first film and its images of Maria projected against the interiors of her home, a superimposition that feels at once like a haunting and a resurrection. It's a dexterous formal maneuver that points to cinema's capacity to illuminate while still acknowledging that darkness is the prerequisite of that process.
*****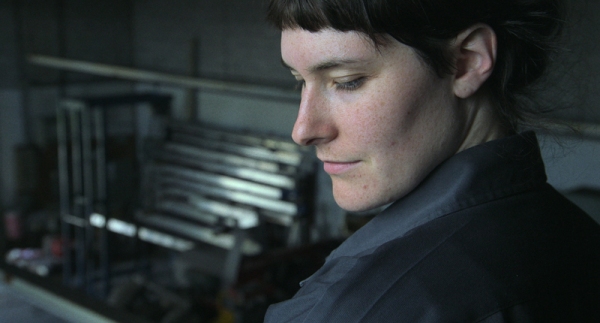 Last December, Cutaway screened at the Art Gallery of Ontario alongside Denis Côté's new feature, Joy of Man's Desiring, which also makes its New York City premiere via First Look. Côté is now into his second decade as one of Canada's most consistently interesting and adventurous filmmakers, and while he considers Radwanski a kindred spirit—he was one of the earliest supporters of Tower—his own cinema is a rather different animal: oblique, elusive, and idiosyncratic. It's also sometimes politicized, from the online-émigré-Meet-Cute that catalyzes Our Private Lives (2007), a film about two expatriate Bulgarians fucking away the days in a cabin in the Quebec woods, to Vic + Flo Saw a Bear's melancholy fable of perpetually hassled lesbian ex-cons fucking away the days in the Quebec woods (one more example and we'll have a trilogy).
Joy of Man's Desiring would seem to be the most political of Côté's films to date, but at a Q&A in Toronto the director insisted that this is not the case; its partially documentary, partially declamatory (in semi-Straub style) account of an automated workplace environment populated by a mixed bag of actors and authentic employees depicts variably alienated labor but—in Côté's view—neither decries nor affirms its status. Instead, the film plays like a sequel to Bestiaire (2012), that wonderfully controlled vérité tour of a Safari park whose animal inhabitants effortlessly hold and reflect the camera's gaze. In that film, as here, the fun is in Côté's clever camera set-ups and scrupulous sound design, which create immersive environments whose nooks and crannies are imbued with excitement and dynamism. Even if it's forbiddingly austere at times, Joy of Man's Desiring is finally a study in different kinds of beauty—human, mechanical, and musical (the Bach cantata that gives its title makes a welcome appearance)—and the work of a filmmaker whose every move from film to film feels free.
Photos: Cutaway (top), courtesy Kazik Radwanski; Joy of Man's Desiring, courtesy MetaFilms